Selling your home can be a daunting task. An essential part of the home-selling process is making sure your everything looks in top shape for potential buyers. If you are planning to sell soon, it is important to create a good first impression to anyone interested in your property.
Staging can show how attractive your home really is and help it sell quicker, as well as boosting its value. It is a no-brainer, right?  You don't need to be an expert interior designer to know how to stage your home to a high standard.
Everything from the curb appeal to the interiors should be considered when preparing your home for sale-check out our top five tips for making your home the best it can be.
Curb Appeal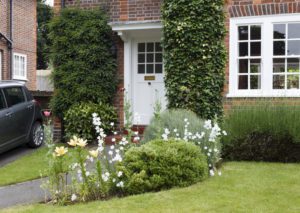 Make sure your home looks presentable from the get-go and enhance that curb appeal-we're talking the front exterior of your home. This means getting the power washer out, cleaning the windows, replacing any cracked glass, weeding flowerbeds, and tidying up your driveway.
One way to really transform your property is by painting the front door. It's a great way to make your home eye-catching and stand out from the rest. Wouldn't you rather walk into a home you're thinking of buying with a beautifully painted front door (rather than a scratched and worn-down one…?).  
Make that potential buyer excited and feel welcomed upon seeing your house in person for the very first time.
2. Clear the Clutter
Clearing away your clutter can be overwhelming. While a lot of viewers like to see family life over sterile atmospheres or staged homes, boxes anywhere and everywhere aren't a great idea.
Clear the space around your home to allow any potential buyers visualise themselves living there-a lot of clutter everywhere will hinder that. There's no need to get rid of things forever, but they should certainly be put in storage.
Think of freeing up space by keeping only seasonal clothes in your wardrobe-the less clutter, the bigger it looks, and more enticing to any potential buyers. Clear out any old shoes, books, bags-whatever you have in there that doesn't need to be, it's gone!
For more on decluttering your home, you can check out our blog post here.
3. Neutral Colours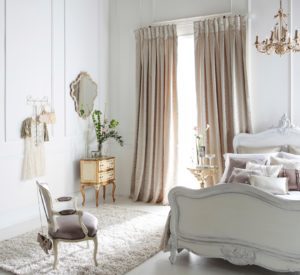 One of the first things a buyer will see in your home is the colour. You want viewers to picture themselves living there, so it's a good idea to incorporate a neutral colour scheme that appeals to everyone.
Consider re-painting the walls if they're too dark-a light colour will give a feeling of more space, as well as conveying a calm and relaxing mood in your home. If a buyer isn't impressed by the colour scheme of your house, they'll immediately start thinking about the cost of re-painting walls. Not ideal, is it?
Neutral tones such as beige, white, grey or brown are always a good idea; they can really pull a room together. We're not saying not to add any colour at all-pops of colour such as lilac or crimson here and there to accessorize can certainly add to the décor and even show off your personality.
However, a consistent colour scheme throughout the property is essential to create an all-round good first impression and attract a wide range of potential buyers.
4. Bright is Right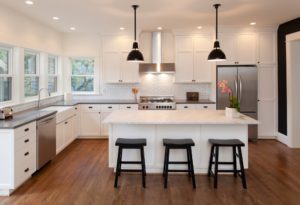 Lighting is one of the most important aspects to consider when staging your home. Good lighting can create a warm, welcoming, and friendly environment, but poor lighting can create a cold, dark and uninviting atmosphere.
A great way to utilize light in your room is by using your overhead lighting and blend it with other sources such as lamps. This can really add a warm and ambient feeing to your home, making viewers feel welcome and comfortable.
By using several sources of lighting, it can help add texture and depth to your room, making even the plainest room look and feel appealing.
One thing to note is to make sure you are using energy-efficient bulbs-today's buyers want an eco-friendly alternative. Traditional incandescent bulbs tend to use more energy as well as burn out quicker than LED lights. While LED lights may cost a little more, they are far more sustainable and last longer.
As well as this, buyers will be pleased to know they won't have to fork out a premium price to keep the place as well-lit as you do.
5. Scent
Viewers will notice straight away what your home smells like when they walk in for the first time. You might have become accustomed to it, but it's important to see (or should we say smell) things from the buyer's point of view.
Some scented candles depending on the time of year can trigger a particular type of emotional reaction. For example, autumn scents such as cinnamon, ginger and pine, can bring back happy and nostalgic memories, such as spending time with family during Christmas time. Even better, by combining these aromas together, it can really trigger a powerful emotional response in anyone who enters your home.
Beware of any hidden odours-for example, if you have a dog who lives indoors, it can leave a lasting scent around the house.
If you have had the dog for a while, you probably don't even notice the smell anymore-but any viewers entering your home for the first time certainly will. Make sure you have thoroughly cleaned and vacuumed the carpets and rugs as smells can stick to these areas. And of course, clean the dog's bed-it is a magnet for all the dirt your dog brings in from outside!
Bonus Tip: Make that Garden Great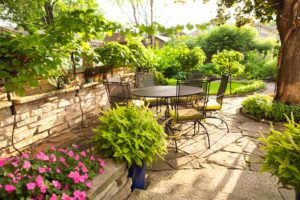 If you have a back garden, why not do that up too? Even if it's a small area, create appealing imagery in any potential buyer's mind by decorating with some elegant vases and flowers, along with some café chairs and tables to give that 'alfresco' dining potential. Having breakfast outside on a warm morning in the fresh air…sounds alluring, right?
Ensure your gutters and pipes are cleared and undamaged. Keep bins out of sight if possible and any unwanted items such as dog toys or broken flowerpots should be removed pronto. Ensure the grass is freshly cut too (appeal to your buyer's senses!). 
Staging a home requires time, patience, and some money. However, furnished homes sell much quicker than vacant ones. Buyers want to visualize themselves living there-they're looking for a home, not a house. By putting in the effort to make your home look presentable and neat, it can really increase your chances of a quick and decent sale
Follow us on social media!-
Facebook: @hainesireland
Instagram: @hainesdublin
LinkedIn: Haines Property Management