We are a team of dedicated professionals, ready to do whatever it takes to ensure you have a great experience dealing with us. Buying, Selling or Renting, we understand that a client can be today's seller, tomorrow's renter and all clients are treated equally.
Barry Finnegan
Director
I'm passionate about getting great results for my clients and I'm mindful that buying and renting can be very stressful so I do my best to make it as straightforward as possible for everyone.
In 2014 I resigned as a Director at Sherry FitzGerald Lettings, and I decided to establish Haines, borrowing my wife's maiden name, and in 2015, Haines acquired Home Managers.
I love living and working in Dun Laoghaire. The town has so much potential and after so many years it's finally getting it's act together. Julie & I would find it difficult to live anywhere else!
My twin girls love the People's Park, especially on a Sunday afternoon, and of course Teddys is a must.
If you're thinking about selling or letting your property in Dublin, I promise you that you'll be well looked after at Haines.
I've some great restaurant recommendations too...
You can reach me on my mobile most of the time at 087 2722222 or if it suits you better, email me.
Thanks for visiting our website.
Property Management | Sales & Lettings | Dublin
Jane Moynihan
Consultant
Jane establised Home Managers in 1987 with Joan Pollard and was always the partner with the eye on the figures.
Jane met Joan on a start your own business course and they both quickly realised they had shared the same job in Italy!
After recognising the demand and need for a dedicated management company, they established Home Managers in Jane's kitchen and the rest is history.
Jane as a great eye for detail and we often get referrals from tenants who didn't love the thorough inspections but now that they're landlords, want the same level of detail.
Jane lives in Dalkey and is an active traveller.
Property Management | Sales & Lettings | Dublin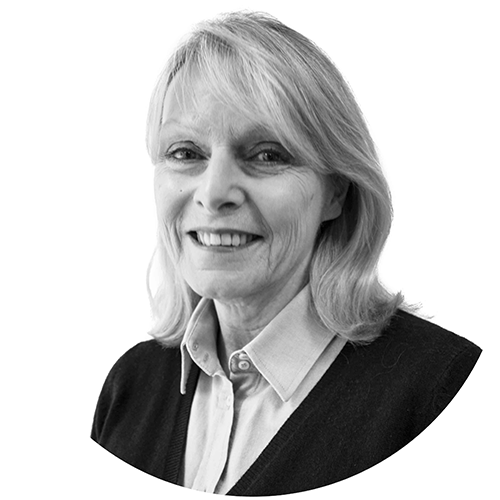 Joan Pollard
Consultant
Joan was the original Home Manager in 1987!
After meeting Jane on an entrepeneur course, they established a great rapport over a love of all things Italian and established Home Managers soon afterwards.
Clients say Joan's quick wit and tenacity is one of her many endearing qualities and those clients remain with Haines to this day!
Joan, together with her original partner, Jane, carry out all the routine property inspections every four months.
Property Management | Sales & Lettings | Dublin
Janet Byrne
Accounts Manager
Janet is our accounts and office manager and is an invaluable member of the team.
A Wicklow native and lover of all things outdoors, Janet looks after all of the financials and is a familiar voice to our long-standing clients.
Now in her 14th year with Haines, Janet's professional work ethic together with her great sense of humour ensures another 14 years ahead!
A devoted grandmother to two grandchildren, Janet is often seen on the N11 in the direction of Waterford most Fridays.
Property Management | Sales & Lettings | Dublin
Hazell Robbins
Property Administrator
Hazell joined Haines in 2014 and quickly became an integral part of the team.
Formerly the head runner in Hartleys, a local fine dining restaurant, Hazell developed her cool head during the busy restaurant service times and has great attention to detail coupled with superior customer service skills.
A native of Monkstown, Hazell loves getting to the bottom of a problem and is a real benefit to the team.
Property Management | Sales & Lettings | Dublin
Ruby Slazenger
Property Administrator
Ruby joined the company in 2014 after a long career at Hewlett Packard.
During her previous career, part of her role included helping to oversee the running of a large site and she loved working with the project management team that coordinated with contractors for site projects, internal office moves and a large office relocation.
That, coupled with designing her own home and project managing the build herself is that made her realise the property industry is where she wanted to be!
Ruby looks after our portfolio clients and is our special project co-ordinator. In addition, Ruby looks after our AirBnB management department which is available to clients looking to rent their properties on a shorter term.
Ruby lives in Enniskerry and is married with two children.
Property Management | Sales & Lettings | Dublin
Dee Mullen
Property Viewer
If you're lucky enough to meet Dee on a viewing then you'll appreciate she is not the normal property viewer.
Dee's warmth is evident the moment you meet her and we are delighted to call her our own.
Most likely to be driving our Haines branded mini, a viewing with Dee is a refreshing change from the normal viewing.
Dee lives in Shankill and has three grown up children.
Property Management | Sales & Lettings | Dublin
Vikki Mc Rann
Property Administrator
Vikki joined us in 2015, landed in the deep end and hasn't looked back since.
Living in Monkstown, Vikki has lots of local knowledge to share with clients, tenants and potential clients or tenants.
Vikki is committed to a very high standard of customer service and is one of our customer care champions.
A fantastic Karaoke singer (after midnight), Vikki has teenage boys who are her pride and joy.
Property Management | Sales & Lettings | Dublin
Lisa Clifford
Property Team
Lisa is the latest addition to the team and has quickly become a valued staff member.
Property Management | Sales & Lettings | Dublin
Shauna Dalton
Property Team
Shauna is the newest member of the team
Property Management | Sales & Lettings | Dublin
Deirdre Rooney
Property Team
Deirdre has just started with Haines
Property Management | Sales & Lettings | Dublin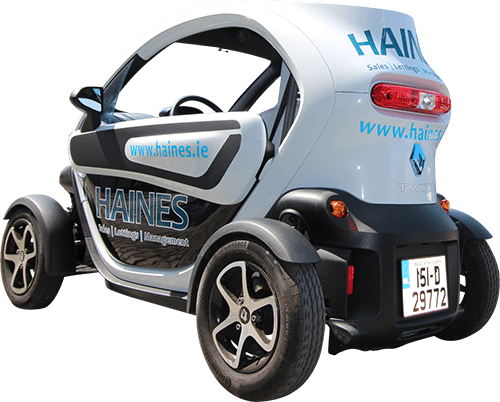 Twizy
Runaround
Our runaround....zero emissions and we can park right outside the office in Dun Loaghaire.
Don't worry though - we respect your privacy and never will never bring it to a valuation.
You can read our blog on why we don't bring branded cars to new instructions here
Property Management | Sales & Lettings | Dublin
Julie Haines
Director
Property Management | Sales & Lettings | Dublin
Our Offices – Dun  Laoghaire & Dublin 2
Dun Laoghaire
(opposite the People's Park)
65 Georges Street Upr
Dun Laoghaire
Co. Dublin
T: +353 1 2845677
E: info@haines.ie